Release: 1972
Writer: Don Houghton, Bram Stoker (funnily enough, IMDB lists him as an "uncredited writer" even though this is as far from Stoker's novel as you can get!)
Cast: Christopher Lee, Peter Cushing, Stephanie Beacham, Christopher Neame, Michael Coles, Marsha Hunt, Caroline Munro
Soundtrack: Michael Vickers
Claim to fame: it's Dracula - in London - circa 1972! Let the hijinks commence! Also, it was one of Hammer Films' last productions
Four stars may seem like a little much but I'll be honest: I loved this flick! "Dracula A.D. 1972" is technically my first introduction to the world of Hammer Films, the British movie studio responsible for producing many classic horror films during the 50's until the mid 70's, films that cemented Christopher Lee as THE Dracula and Peter Cushing as THE Dr. Van Helsing in the minds of many impressionable horror fans.
Although "Dracula A.D. 1972" is something of a black sheep in the Hammer catalog, it still features strong production values, a stylish look, and a genuine sense of Satanic dread.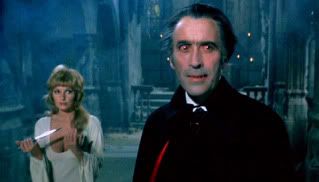 The cinematography is frequently stunning in "Dracula A.D. 1972"
The film opens with a bang: it's the the 18th century and Dr. Van Helsing and Dracula are engaged in a battle to the death atop a runaway horse carriage. Hell yeah! Dracula meets a particularly gruesome fate - Drac doesn't care for wooden stakes, even if they're impromptly made from a broken wagon wheel -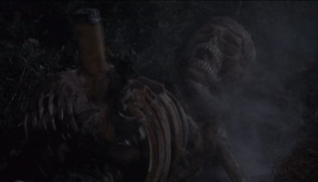 and then we're whisked away to the London in the early 70's, which is just groovy, man.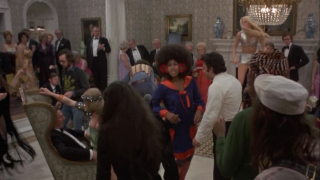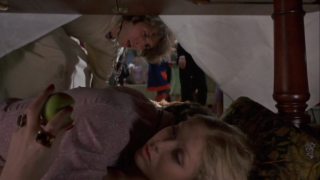 Even if they didn't tell you in the title, I don't think
anyone would have trouble realizing this was the 70's
A warning is due to Christopher Lee fans: to tell the truth, Dracula is not in this movie that much. The focus is mostly on Christopher Neame as the sinister Johnny Alucard (what a cool name), who actually manages to upstage Dracula in terms of sheer evil. It's hard to believe that a few years later Neame would go on to play Romeo in a film adaptation of "Romeo & Juliet"!
He has a dynamic screen presence with his tall, angular figure dressed in black and a face that projects pure loathing for mere mortals.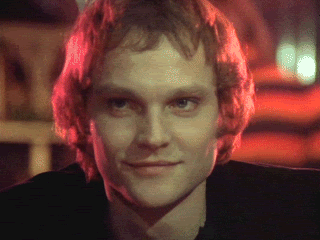 Johnny Alucard - not a fan of the humans
Unless you're a massive devotee of Christopher Lee, you'll probably find that Neame steals the show right out from under Dracula. See, Dracula doesn't even leave the desecrated church that serves as his homebase in this movie. He sends out Neame as an underling but that means that Neame gets to do all the fun stuff: seduce babes, bite their necks, and bring them back to Dracula to finish them off.
Meanwhile he's trying to keep his cover as a non-vampiric member of society. I love when he lies to his friends on the spot about a woman he just helped murder, like a Bret Easton Ellis character ("American Psycho") in training.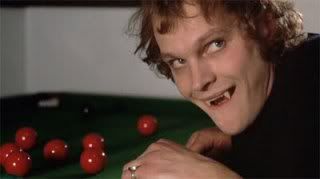 "Don't touch my cherries! Don't touch my cherries!"
Of course, the whole reason that this mess got started, why Dracula is even in the freakin' 70's, is because Neame manipulates his friends into performing Satanic rites in an abandoned church, with the aim of resurrecting Dracula. Neame is clearly the one in control here; his well-meaning friends are mere dupes with no idea what's in store for them.
The performance of the rites felt vividly real. As Neame bellowed "I SUMMON AN AUDIENCE WITH HIS SATANIC MAJESTY!" I was checking behind my couch for any signs of hellish smoke rising from the floor.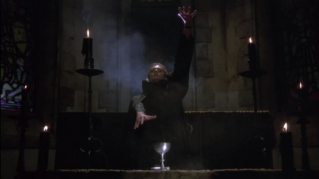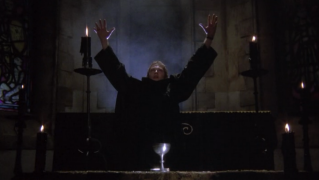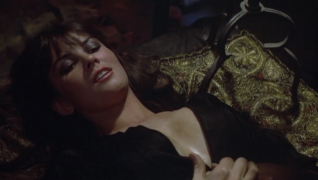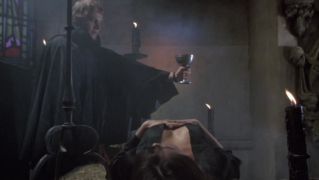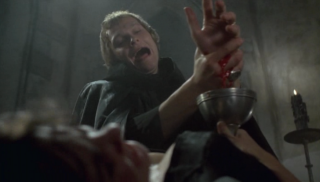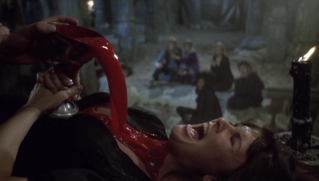 As the force of good in the film, Peter Cushing is excellent. He's quiet and gentle-natured but maintains a deep understanding of the evil in the world. Cushing's small, lean frame belies his large screen presence. He's kind of like the vampire ass-kicking, lovable grandpa you always wish you had. Though I have to say I felt bad for Cushing himself when he looked ready to fall over after running around the streets of London.
Also, it's kind of a shame we have to spend so much time with the Scotland Yard cop characters in the movie seeing as how they're only there to clue Cushing in to Dracula's plot, but the final confrontation between Cushing and Dracula is satisfyingly bloody and cathartic.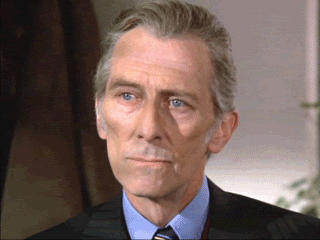 Cushing shows thoughtful concern
The only drawback to the movie is its silly early 70's wannabe-funk score, which robs some scenes of their dramatic weight. But I suppose the film makes up for it with a bevy of cute hippie chicks. What can I say? Dracula has always had an eye for women.
Of particular note is Drac's first victim, Caroline Munro. Munro is sort of like a sex icon for movie geeks who didn't get laid much in the 70's, having starred in movies like this one and "The Abominable Dr. Phibes" (1971) and "The Golden Voyage of Sinbad" (1974). Yup, she's all woman, even when she's having steaming blood poured all over her cleavage.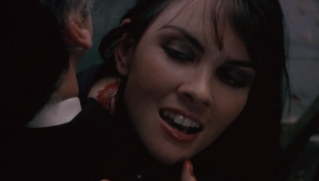 If you're as f'ed up as me, you might find this totally hot
As I mentioned before, this movie has divided fans of Hammer Films. It has very mixed reviews at Netflix, with some claiming that placing Dracula in the then-modern, now-dated 70's London scene strained Hammer's credibility. You know, that might be the case but I had a blast watching this movie. Cheesy or not, it hit all the notes that I want out of a 70's vampire flick and featured a truly evil performance from Christopher Neame. Thus, "Dracula A.D. 1972" gets 4 stars for its fun factor alone.
Whether in the 1800's or the 1970's,
Christopher Lee remains the definite Drac for many