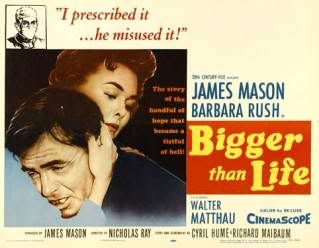 Release: 1956
Director: Nicholas Ray
Writer: Cyril Hume and Richard Maibaum (story and screenplay), Burton Roueche ("New Yorker" article), Gavin Lambert and James Mason and Clifford Odets and Nicholas Ray (uncredited rewrites)
Cast: James Mason, Barbara Rush, Walter Matthau, Robert F. Simon, Christopher Olsen, Roland Winters, Rusty Lane, Rachel Stephens, Kipp Hamilton
Soundtrack: David Raksin
Claim to fame: for a movie starring James Mason and directed by Nicholas "Rebel Without A Cause" Ray, this movie is pretty damn obscure
Rating: 4/5 stars
James Mason starring in a 50's melodrama that also happens to be Nicholas Ray's follow-up "Rebel Without A Cause"? Nobody had to trust my arm to get me to place this movie at the top of my Netflix queue, even though I'd admittedly never heard of the film before Criterion Collection released it on blu-ray late last month. As such, I was caught completely off guard by how utterly dark and harrowing "Bigger Than Life" is.
The opening twenty minutes - and the fact that the film's script was based off an article in the New Yorker - had me concerned that "Bigger Than Life" was going to be one of those 'you've heard about this happening to other people, now watch how it could happen to you'-style 1950's housewife shockers.
James Mason plays a respectable schoolteacher and family man who, unbeknownst to his wife, moonlights as a cab dispatcher for a little extra cash. He's been suffering from chronic pain for about 6 months until the whole situation catches up with him and he collapses at home, just after admitting to his wife that their modest suburban existence is really quite dull.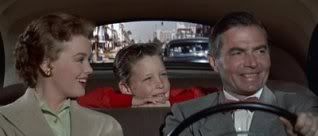 Nothing this good could ever last
The doctor's diagnosis is grim: Mason suffers from a rare condition that causes his arteries to swell. He'll be dead within the year - unless he tries the new miracle drug called Cortisone. His doctor warns him not to abuse the drug and to report any signs of depression but Mason is none too concerned - he's just happy to have a new lease on life.
After a week of recovery, he's sent back into the loving arms of his wife and son…until the Cortisone takes hold.
James Mason faces his mortality with his family at his side
You might feel like you know where this one is going. I thought I did: a beautifully photographed but ultimately archaic look at the picture-perfect nuclear family of the 1950's dealing with their patriarch's addiction to prescription pills.
I was expecting the swooning music, the glowing colors, and tearful embraces of a Douglas Sirk film - which I do unabashedly love.
This nuclear family is about to reach critical mass
But no. "Bigger Than Life" goes so far past that, into such dark, soul-searing territory that I can hardly believe this film was released in 1956. James Mason is transformed by the side effects of Cortisone into a paranoiac, manic-depressive suburban tyrant. It's the "Leave It to Beaver" model flipped completely on its head, as Mason delivers tirade after tirade that systematically tear down the American dream and reveal it as a sham.
Does the drug turn Mason into another person entirely or is it merely bringing out all the thoughts and feelings he kept buried in his daily life? That's up for the viewer to decide.
And you may ask yourself "Well, how did I get here?"
Director Nicholas Ray brilliantly uses drug addiction as a mere plot device, really, to deconstruct Eisenhower-era values. Mason, in his Cortisone-induced haze, spends money beyond his means just to appear more upper crust; he talks about waking up to discover he's "outgrown" his wife; he delivers Nazi-like theories on education to a deeply offended crowd at a PTA meeting; and the whole thing concludes with one of the most honest-to-God darkest scenes I've ever witnessed, as Mason transforms the family Bible into the means to commit murder.
I'm sure critics confronted Nicholas Ray at the time and asked, "How can you have a character say such terrible things?!" and Ray could simply smile, "But that's what drug abuse does to people!" all while knowing that there are kernels of truth in much of Mason's dialogue.
I won't spoil the ending but it's some pretty bleak stuff
Somehow James Mason manages to be even more terrifying here than as the lecherous Humbert Humbert of Stanley Kubrick's "Lolita" or the villain in Hitchcock's "North by Northwest." It's truly a performance for the ages and Mason's slightly effeminate, European accent only seems to heighten his isolation from his classical suburban American surroundings.
An early scene in which Mason forces his wife to obsessively try on dresses at an upscale boutique until she's literally too exhausted to move brings to mind a similar scene with Jimmy Stewart and Kim Novak in "Vertigo" (1958). Indeed, anyone who enjoys the subversive 50's style of that film will find much to love about "Bigger Than Life."
Shades of "Vertigo," which came 2 years later
The film is wonderfully photographed, bringing an almost Expressionistic style of shot composition and color usage to a Middle American setting. Nicholas Ray favors long takes - IMDB reports that the average take is 11 seconds long, a far cry from today's ADD-addled directing style - looming shadows, and a carefully controlled color palette to immerse viewers in the tale of suburban psychosis. On the technical side of things, the Criterion Collection blu-ray release is absolutely stunning.
David Raksin, a composer perhaps most famous for the main theme to the 1940's noir film "Laura," delivers an excellent score with a motif that is haunting yet melodic and repeated just often enough.
I highly recommend "Bigger Than Life" to anyone who has any interest at all in mid-century American cinema. The film bombed at the box office in 1956 but caught the attention of many French New Wave filmmakers, then received a critical re-appraisal in America in the 70's, but has since become increasingly obscure. It's a shame. The pitch-black depths that the film plummets means that it's not exactly a movie I want to revisit with great frequency - but it's certainly worth watching, owning, and discussing with other cinema lovers.
Patriarch Knows Best